SO my sweet marky poo… you finally fell victim to my wit and your own stupidity. Mark is such an idiot people its really sad! Mark sent me the Soprano boxed set and the Semi Pro dvd… two of the the twit. Also a nice pair of pink leg warmers, all seen here.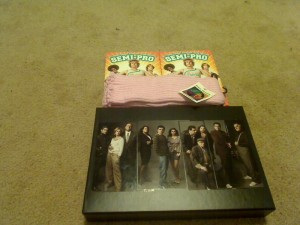 What he failed to realize is he didnt HIDE is BILLING information!!! He didnt ship it as a gift, which during the checkout process its quite clear as an option. So the once I want to stay in the background pet and tribute here and there from afar pet is now… DUN DUN DUN, my blackmail slave! I have clearly blocked out his information .. for NOW hehe!
My plans for mark the moron? Simple! We discussed this in full! He will take out life insurance and name me benefactor, there is no one else in his life after all. He is to also leave me everything in his will as well. In turn when he dies I will make a trip to England to collect his ashes and he will live the remainder of his days in my panty drawer! Finally he made it into Princess's panties no? Meanwhile I will be blowing all his money on parties and useless junk, not investing one dime into anything useful! Why should I? You guys make sure I will always be provided for!
Marky, next I desire the violin off my wishlist, make it happen!