Ok I know I am way behind on my scheduled updates but, what can I say I am a Princess with a L I F E; I understand many of you have never heard of such a thing in your life but it is true hehe! So here is a treat, from the same sissymichelle… aka my bimbo sissy bitch sugar daddy!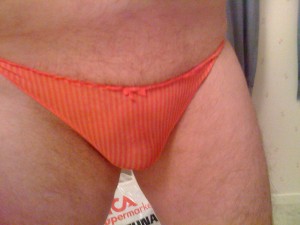 Yes that is his ass in barely there panties… I know so gross, not the typical type of pictures I post here in my blog and I hope you loyal followers wont gag so much you die looking at this picture as I ALMOST DID! This is one of the pictures that went abound through the sorority house over this past week. Girls photo copying photo copies just to pass it around and laugh at this retard!!
Back to the topic at hand though! This bitch was not only blackmailed by me but I used Niteflirt to make this dumbass pour over his masculinity and money into my hot little hands. This was not HARD at all! I trained him on how to suck cock properly and drained his ass! He used tiny butt plugs to stretch out his anus and get his ass ready for a huge black cock to fuck him! I purposely want this Niteflirt sissy bitch to join me at frat parties and be the party favor! Totally done up like a whore Vegas show girl and bent over sucking cock like a relapsing crack head!
Have to admit it was fun fucking with this bimbo, what scares me is…. what if I make him to stupid to follow my orders… like he currently is acting!