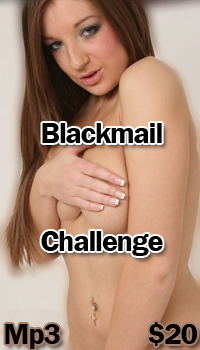 Yes I KNOW! OMFG Princess is putting up another podcast after SOOO LONG! IT was bound to happen… I just like to watch you losers squirm cause you need your fix… well mainly cause you want something cheap to jerk off too, but like most other girls who have ever taken a call, we know you could jerk off to ANYTHING so why hold back right? You good loyal pets deserve the treat so I posted the first MINUTE of my challenge blackmail game. The prize I am going to give to those who actually pull it off and follow all the instructions to the letter is freaking crazy! I will not say what it is though… that is ONLY for winners to know. I will be posting a few times this week for fun just to let you losers know how many have tried and how many have failed!
So what is my blackmail challenge? It is two fold really… it is to prove you can not be on the phone with me or listen to my seductive voice for more than 8 minutes without cumming… it is just impossible. You also can not listen to me taunt you, telling you about other blackmail pets and my plans for you without you bending to my will and giving me all your information… again its just impossible.
Since I have been on an normal Niteflirt schedule again: 9 am to 5 pm weekdays, I have been getting SOO many of your damn calls about how much you want Mistress to blackmail you. So many emails and im messages on yahoo offering up your details… Again you insolent pets, I will NOT take information without you paying and filling out the full blackmail application. This is MY way or the high way not your way to getting off… I frankly do not care about your pathetic orgasm or what turns you on… I am the puppet master here and you dance for me or get ignored.
I have also been getting alot of requests lately to start back up my topics of discussion. I have been so busy lately between my life and chatting with you losers on yahoo and live PTV teases that my blog has fallen by the way side… yet again. It saddens me cause this is one of things I enjoy.. indulging in myself.
SO the topic for discussion today is: what brought you to blackmail? If you are reading my blog you most likely have some interest in blackmail… I know I covered this topic before but I want to switch the focus. Why is blackmail considered so taboo and illegal? We basically do it everyday but in different context. Landlords blackmail their renters into paying by threatening to kick them out. Oh trust me, in many cases it is considered blackmail. Schools blackmail parents into sending their children or they go to jail… etc. So HOW is it making it where if you blackmail someone just for cash considered illegal when if done by other means it is not only hard to prove but totally legal? I'll post my thoughts later, I wrote this blog late and got way too many distractions today lol. I'll be back in the comments later.