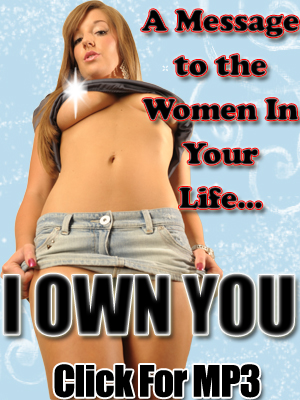 So I have taken it upon myself to send out my first official message to the women in your life. It has come to my attention that you losers have not only wives and girlfriends but co workers and in some cases other family members who are female and distract you from your devotion to your Goddess. So not only as a message for them to get lost but I have created an mp3 that will tell you losers whether these girls are actually WORTHY to take your attention away from me. NOW don't get it twisted, THEY OF COURSE are NOT but I want to prove it to you simple minded minions that they aren't. Any woman who doesn't immediately turn down the opportunity to listen to this truly degrading mp3 is a submissive at heart.
From there any woman who listens will probably NEVER speak to you again or she will try and provoke me into dominating her HAHAHAHA oh and trust I will. IN fact I gave each girl who listens to this mp3 an assignment subliminally. She will not even realize she is beginning her service to me!
SO I have more news losers, this "domme" I am taking over is behind in her payments to me… You know what that means!!!! Anyone who tributes $50.00 or over this weekend will get the FIRST mp3 in which I OUT HER and make her MY SLAVE on Monday. Consider this a pre-order!!! IF I get to over $2000 as my weekend total then the VIDEO of her house and her talking to me and pleading with me to leave her alone will also be yours for your viewing pleasure. That's right!! I had one of you retards hunt her down and stake out her house and video tape her as I called her and convinced her to go outside for a smoke to talk with me.  Her misfortune and humiliation is about to be live for the world. Oh what I did to her is chilling and soon the whole world will know. Had she been smart she never would have messed with me but what is better is she wasn't smart enough to just get exposed and moved on…. No now shes BROKE and can't even afford a motel to live in AND shes still going to get exposed.
I want to further give you losers incentive and anyone who tributes over 200 this weekend will get the video EARLY. Bet you can't wait to see her face as she realizes she is EXPOSED.