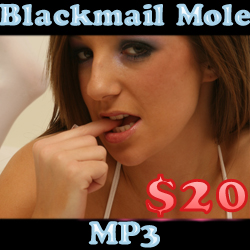 What is a blackmail mole you little niteflirt wimps ask? Well it seems pets its time for my biggest secret to be unleashed. As my site gets more and more hits for blackmail, as more and more of you losers tell people about me, as the legend of Amberly goes to more ears; I am simply becoming inundated with blackmail applications. I can not possibly take you all on as well… I do have a life and I am NOT giving it up any one of you Niteflirt fetish heads. SO what is a girl to do? With all the pets wanting my attention, I have found a way to make you useful and put you to work! In my latest mp3 to the right you will find me, Mistress Amberly, detailing exactly how I use you blackmail fetish heads to help me keep my current stable in line and make it where you don't get blackmailed yourself!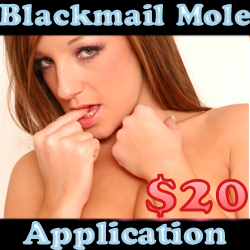 You can now play with the fire and not get burned!
So after finding out just a TINY bit about my newly uncovered secret, I am sure you are ALL dying to become one of the coveted few who helps me take down my pets? Well to do that you will have to apply! DO NOT expect me to accept you without buying the explanatory mp3 first though. I do not wish to answer a bunch of the same questions over and over again so do not email, im me on yahoo, or message me on niteflirt about the position unless you have purchased and listened to the mp3. Then you may buy and fill out the application. I want to state again this is NOT a blackmail application.
In related news I have gotten even more pictures of poor little Chuck. Seems he will do anything ordered just to make Princess happy! You better have that 500 tribute sent by days end pet so that these pics don't then come out with your real name! Wouldn't want wifey to find out would you? I know its not hard, or at least for your wife's sake I am PRAYING its not, but by God that is one of the smallest dicks I have ever seen. Seriously its really tiny. I cried laughing when I saw these photos.