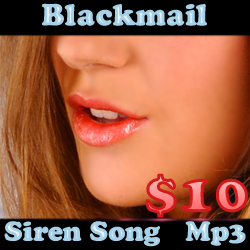 Goddess is back pets and this time with a killer blackmail mind fuck mp3! I have always been a huge fan of psychology and general mind fuckery but this mp3 I promise no one will be able to not surrender too. I use every trick in the book to bring you to your mental knees and surrender all the details you wish I had in the palm of My hands and I do so without you realizing what all is happening. This is my most powerful and potent mp3 to date and I think the Queen of blackmail domination may not be able to top this one. Then again I think that frequently and manage too!
Goddess has been busy with the onslaught of custom mp3s that were ordered and a massive snow storm. I weathered through both and got some amazing requests. I should open Myself to doing custom mp3s more often! If you are reading this and I haven't delivered yours, please leave a comment or message Me on Niteflirt as it gets My attention the fastest. I believe I have delivered them all but with over 100+ ordered one or two may have gotten lost in the fray.
Goddess has also been writing two books that will be coming out VERY soon for purchase on various fetish related topics. I am a published author outside of this blog, yes I typo alot on this blog but I do have professional work that I do bother to proof read. I thought after all this time why do I NOT meld to the two together! If you are interested in purchasing My upcoming blackmail fetish book or My psychology of a Domina make sure to comment or message Me on yahoo IM or Niteflirt for further details.