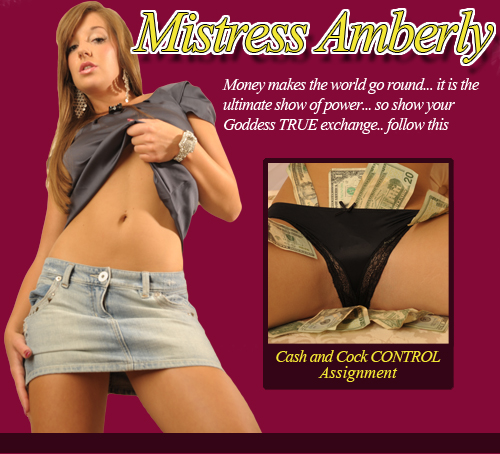 One of my most devious posts to date pets… I know so many of you fear my blackmail and realize how ruthless I am… so you steer clear and purchase mp3s and assignments on the side. For a while now, I have been producing and posting mainly blackmail related material with nothing for you fence watchers… but I am truly greedy and wish to own you all. Even the scared little lambs who do not wish to be slaughtered. SO here you are pets! A special place JUST for you! You wish for me to own you don't you pets? Why not become a jerking stroke junkie human ATM? Tributes and cash control are the best way to show anyone appreciation, trust and that you wish for them to take the handle over your life, so why not apply that to our relationship… or even start a BDSM relationship with the ultimate Mistress? Click the button to the right pets!
In other updates, I would like to tell you guys about a few of my pets who have impressed me. I haven't really given public kudos to you guys in a while because of the time it takes to update my website and produce new devious assignments.
First there is MR NYC, for obvious reasons that is why he is named that but other than that he started off very impressive. Intelligent, submissive and very easy to talk too. I personally like pets who aren't pretending to babble on and be lost but can hold an actual conversation and be stimulating. I believed he had true potential in being one of my non blackmailed pets and actually prove to be quite loyal but alas he fell by the way side… very sad. You subs need to learn that it is not your needs or wants that matter but that of Goddess you are serving… this poor soul just couldn't keep up so I cut him loose. Oh I know he will be begging to get back in my fold soon enough but it will not happen. He was never taken on as a full on pet and I sent him back to the myriad of  "Mistresses" out there who will pander to his needs and pretend to dominate him!
I also had to release Mr NJ for similar reasons… those who can not follow simple directions or question me repetitively get the boot… period.
ShoelaceLover is a new pet of mine and has really gone above and beyond. I plan on posting pictures of all the Amazon gifts I purchased using the e gift cards he sent tomorrow as well as screen caps of the tributes on Niteflirt he sent. I banged over 4000 out of him between niteflirt and amazon this weekend, now that is what I call financial domination! All so he could stare at my feet on webcam! That is right pets I do do webcam for pets that deem worthy. I am not some puppet that you can toss money at expect me to dance for you, you first EARN the chance by acting like a good pet and building an interaction with me. Not only was this pet witty and very loyal but he went above and beyond to impress me. Including hoping on webcam himself to show me the shrine he built of me! He had pictures printed out and an alter built in my honor. OH how he begged for some of my personal items…. in your dreams pet!
Oh the infamous T Mackey is back as well…. thinking taking 200 from him in a matter of minutes as financial domination… If I didn't find it beyond pathetic how he continues to message me repetitively begging for attention without paying. Sorry I don't work to earn your cash, you give it up first then perhaps you get some of my attention!
FaggyTrixie has made his round back to me. Some of you might recognize his name from my twitter feed and my members area. He is always sending me pictures to show my friends of himself dressed up and out in public. He recently sent me a MAC e gift card and Lush gift card to pamper me and make me feel girly… simply cause making me feel girly makes him feel girly… oh I love my sissies.
My latest blackmail pet Jared has been acting properly. Sending his tributes on time, answering his text messages * yahoo allows me to text you pets hehe * and completing his assignments. I love humiliating him and really showing him the grasp I have on his life. He freaked out when he checked the mail and found a post card from Orlando Florida * where I was this past weekend * from me. I love to remind my blackmail pets exactly how much information I have on them and how entrenched in their lives I really am.
I have a few more pets I could post about and deserve kudos * and in some cases public smack downs * but I have an engagement tonight. Perhaps if begged, in my Friday update * with my NEW WIFE PHONE CALL AND LOST EMMMA CALL MP3 UPDATE * I will post about them hehe! Till then pets… find a way to earn my attention in a positive way!