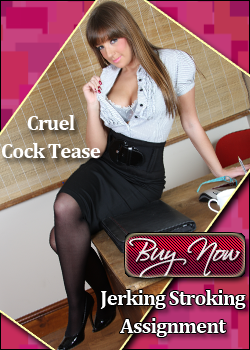 Niteflirt Tease and Denial
My latest assignment is so juicy pet, my latest tease and denial set of tasks with some very juicy pictures. I selected my favorite secretary pictures in hot lingerie and dark pantyhose and heels to drive you nuts. If the pictures were not enough to make you fall for me, mix in a bit of jerking and stroking teasing. Oh I go beyond the pail on this assignment and cause you hours of ball aching and frustrating denial and teasing. Oh yes you do get a chance to cum, but I doubt many of you will be able to cut the muster! So load up your Niteflirt account and see if you can complete this task pet. Oh did I mention to make sure you have LOTS of free time? Not like you little Niteflirt strokers do not have tons of time on your hands, your porn addicts!
Remember to follow all the assignment rules and remember even the losers will get a chance to win this assignment pets. Oh and about those odd emails some of you got on Niteflirt this past weekend which kind of looked like they were about me… read further in my blog about this pets, it is pretty funny
Niteflirt Rumors and Jealousy
So many of you got a suspicious email over this weekend on niteflirt, it was not from me. It was from Amberiy, vs Amberly, for those who got it, well the first part of it everyone already knows sans the theft part LOL! If I was stealing anything, after 3 years I really doubt I would still be in business, Niteflirt is really good at pruning accounts that have been nefarious in nature… ok I am nefarious; however, not breaking any copyright rules. The rest is completely false as all of you realized. It was funny, everyone thought I simply got hacked LOL! Just so you know guys, if you get a suspicious email, copy the flirts name and paste after www.niteflirt.com/ and if there is no page of listings * or little to no stars * you can rest assured it is not me. If it is not posted on this website, again rest assured it did not come from me. It is simply jealous people who clearly can not find success on their own…. in fact I had an interesting yahoo im session with the crazy "Mistress" behind this and will be selling the chat long very soon. See when you attempt such pathetic attempts to down someone who clearly is above you, well…. the script gets turned on you and you end up making them money and you get banned from the thing that is your livelihood hehe! She screams and yells and bitches about how I got her kicked off Niteflirt and now she can't make money…. sad really but yet funny. Don't kick a sleeping dog my sweetie and you wont get bit. And no, I will not publicly out her… why? Because I will not send any traffic her way… Those who mention others they "don't like" are still giving them publicity and we all know even negative publicity is still publicity, so unless your wallet is open then you will not be in the know ;).