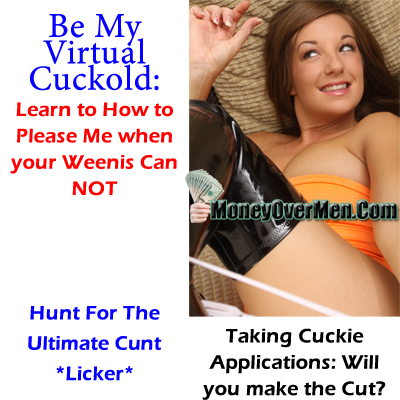 So I promised you Niteflirt freaks a ton of mp3s with today's update, it fell seriously short due to time constraints but I did manage to get something off the ground for you cuckold fantasy minions. I have been meaning to put out the requirements for being one of my personal distance cucks out there. Now I know what is the point of being cuckolded when you are far away? It doesn't seem real does it? Sure it wont if your NOT ME!!
My form of cuckolding is very time intensive as I train you how to be a participating cuckold. I mean if you just sit in a chair and watch its the same as watching ANY porno right? Sans all the verbal humiliation… BORING!!! With me you actually get to interact and PARTICIPATE and be apart of the experience. I mean your jerking with one hand right? You have another free hand to perform the various tasks I outline in the mp3. Oh and the BENEFITS and ways I make being a cuckold real? Oh yeah you get a piece of me when your one of my pet cuckolds! But to find out what that means buy the mp3 and follow the instructions at the end in order to get a chance at becoming one of my pet cucks!
I will be doing an update tomorrow with some more mp3s with a few of my favorite ideas from those who paid for the custom mp3s! God I got so many responses!!! Even those who I told I didn't have time for went and paid EXTRA to bump others off the list. Now that is what I call financial domination / obsession.