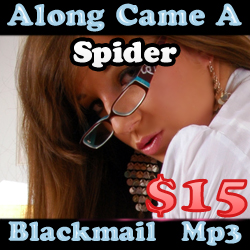 So My latest mp3 that I have created is about, surprise, blackmail. I tell you exactly how I know I will capture all who truly seek blackmail and how you are powerless against it. I am like a spider with an invisible web and I get all My prey. This mp3 is guaranteed to make you lust for blackmail and those already lusting, I warn you! This mp3 is deadly and chances of you falling are great.
Goddess has also a new newsletter. This newsletter functions alot better than the previous one and will allow for Me to put out more exclusive content to those who are truly My fans ;). To join simply add your email below and start reaping the benefits of My exclusive offers, schedule announcements for live phone chat, and often times free mp3s.
Form loading, please wait…

So Goddess has found time in Her ever busy schedule each night to commit to doing mp3s so why not do some customs no? I love making personalized fetish mp3s to help entrap and ensnare a good pet. Just remember that I do not do scripts in any way shape or form; if you desire an overly elaborate fantasy mp3 you will be paying a bit more than ten dollars ;). Thankfully no freak weather storms expected this go around so I can get all mp3s within a timely fashion. Just click the button below and respond after you pay for the mp3.