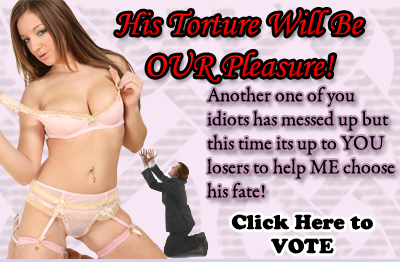 So I have done it… I finally created the ultimate in blackmail experience with this latest reality game. It is a reality game because this is REALLY going to happen to some poor fool that you guys are about to meet in the coming weeks.
Another of you geniuses have fallen prey to me and failed to keep Princess as happy as she should BE! As a result, I decided to have a little fun with him even before I totally humiliate him and leave him for the vultures. I have devised a little poll in which you slaves can go vote ( of course pay for the opportunity ) and help me decide his fate.
Inside the game you will see what information is available to me and my current plans. You can vote on what I shall do OR you can write in your own ideas. You can vote for as many scenarios as you wish but you can also vote for any one as many times as you wish!
Voting closes in two weeks so get your wallets out and help decide this losers FATE!