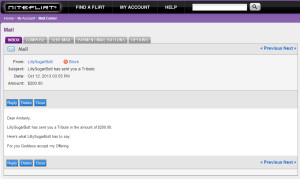 Oh click on the screen shot to My left pets and see something that I see on a daily basis; not sure why ever it took Me so long to think to share this. Now some Dominas excel at financial domination in a sea of males… Me? I excel at getting both men and women to serve Me! Lilly as you pets all know is one of My submissives on Niteflirt and one of My favorites. She spent the weekend sending Me sometimes three times daily tributes of anything she made so that I can profit from her service. Such a selfless pet! I treated her to some phone time play time and allowing her to cum for Me. Perhaps its the holidays rolling around but she has been all too interested in going above and beyond for Me lately so I created a list of tasks for her to do. Buy them here and each of you can help Me train and gain from one of My MOST submissive pets: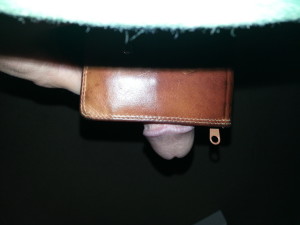 If she can make 400 in the next 2 days for Goddess I have promised to give Lilly permission to actually fuck her big dicked boyfriend this week haha! Yes I even control her orgasms at home. SOOO get to tributing My prized little pet!
In other news, one of My little UK pets has taken the following photo… Yes he is fucking his wallet that is now empty because of Me. I quickly banged 400 out of his pathetic ass today. I have his facebook and his girlfriends facebook information and now addresses and phone numbers. I plan to make his girlfriend My little bitch too… I mean they are broke as hell, perhaps she could finally get out of the slums once she is mine.. and of course ditch the dodo boyfriend she has now. Its not that he is super poor I guess.. just that I tend to take up a massive portion of his liquid income! And yes that is his pathetically small cock…. how gross no? I had him take that photo to show him exactly how I control him and what he means to me.
Another special shout out to My sissy Sarah! I love playing games online with her and watching her hit on all male characters we stumble across!