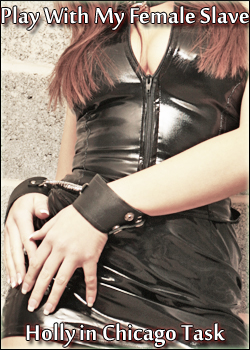 So my sweet Holly has left to go to Chicago! But never fear I like using you pets to help keep her in line and train her. She is the one who taught me that owning females can be extremely fun. No I do not mean the cliche play and then toss like I usually do but the actual owning and type of relationship I cherish and cultivate with my real life and online male slaves. It is almost like being in a lesbian relationship with Holly, and that is why I need you pets.
When Holly gets out from under my eye of scrutiny, she tries what any pet does… to rebel. I have put a set of tasks together that if you click the image to the right you can then purchase and follow to help ensure she remembers her place while away.
She is actually doing my bidding while in Chicago. I have a few pets up there who wished to meet her and well I decided to pimp my little minx out ;).  There are also some blackmail slaves who need to be reminded of their position in my life… by having their information plastered all over their neighborhoods a la millions of posters on every car and in every mail box. That is right, I send my pets to do my dirty work too sometimes!