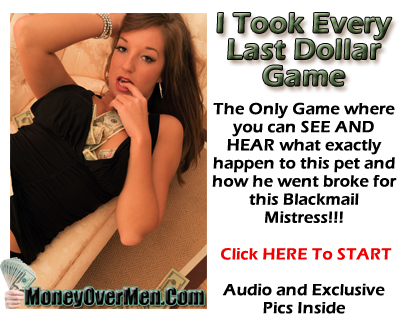 So in my last post I told you Niteflirt addicts about how this Mistress loves to suck in guys who do not wish to be fully financially controlled and especially blackmailed into doing just that.
On my twitter, I also posted a few pics from an exclusive set I have been promising to release that a pet paid for. That is the pictures featured in this set but unlike my other sets have a STORY attached to how and why they were created!
The short story is, a Niteflirt addict like yourself made a few slip ups and his information landed into my hot little hands. I then preceded to extract mass amounts of money out of him till he was literally left with nothing. Before I exposed him, I had him send what was left in his bank account and took pictures with them and sent them as a final treat before his life came crashing down before his eyes! See I can be nice, I will give you water with poison in it before I leave you alone to rot. 🙂
I thought simply just releasing the photos wouldn't give this, one of my favorite declined relationship with a pet, justice enough and turned it into a fun little game. You can see 6 of the pictures from the set and hear the three mp3s in which I detail what happened, how it happened and how this all played out!
Ok, got that out of the way now on to more news of the things to come. I didn't have time to finish up all my sissy school stuff so this should be coming out on Tuesday. I have new games, mp3s, and assignments coming out just for my little closet prancers. I also still have not updated my mp3 page here but this will be happening THIS WEEK PERIOD!!! I will be upping the prices of all my mp3s and assignments that are now $5.00 to $10.00 minimum. I also have a slew of assignments coming out that are not just blackmail. As much as I love blackmail and obviously excel at it… it is not the only thing I do.
Within the month I shall be doing a major overhaul on this site as well. I know I just recently did one but I think it was a rush job just to get some of my new features out and didn't adequately reflect everything I wish it too. The sucky thing about being your own webmaster though is that it is all on YOU to do so… never worry though it shall be done with time!
Also I have new templates coming out with my mails that will be coming out so keep a look out for them.
In personal news, this semester is exceptionally brutal and try as I can, I can't seem to keep up with getting out new blog posts, new mp3s, my current stable of boys, the new boys trying to get in and my personal life so something has to suffer. That will always be my blog first! Never fear though … cause I am AROUND and will still every Friday in the least get something new up but probably not much more than that! I also have a big move coming up in early 2011 so I will be gone for a few days but again NEVER fear I have my back up plan ready and waiting.
Congratulations to poorboy for making my number 1 pet, if you look to my sidebar you can find my list of all my favorite pets. Who will join his ranks next and dethrone an unworthy? Or will HE be dethroned?