Your niteflirt princess has been so busy lately! With the success of my latest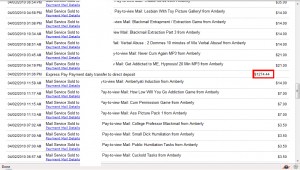 blackmail game it is no wonder I even have the time to post in my blog now! It is barely 7th of April and your favorite Princess has made over 8k! You losers are eating my email with your information and its amazing how fast you losers are paying the buy out fee because you are seeing I am the real blackmail Mistress…
I can not wait till the first idiot fucks up and doesn't deliver so I can post his information right here for everyone to see… well other than Joe but he happened a bit to early to say he was a real blackmail pet… more of a phone sex fantasy enthusiast! He learned really fast that I do not do the fantasy thing and to you idiots reading this, please know I DO NOT DO fantasy… come real or don't bother!
Anyways I have learned my new favorite toy, ultimate destruction! It is a remote access device that allows me to surf through your computer and control it from millions of miles away! Being as I hate the boring blackmail games of threats and well threats that many other "Dommes" do, I like to spice it up with some REAL control. I love going through your computer and finding out all your information… banks facebook, myspace, emails and family pictures and what not! My latest ultimate destruction pet just kept clicking my tribute buttons as I surfed his computer and downloaded all his financial records, pictures and contacts. $2000 later he was drained dry and crying about how I wouldn't continue to talk with him even though he was out of money. LOL! As if I want to talk to any of you once your broke… I use you then loose you!
Be sure to surf my amazon wishlist idiots! Look at how I now have a ton of pages of purchased! Not only have I been getting tons of amazon gift cards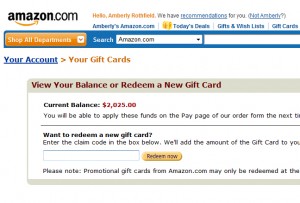 but I have also gotten tons in presents as well, all for you losers who want to spoil a true dominate Niteflirt Princess! Are you losers going to make this ANOTHER 10k month? I KNOW so!
This picture is just of from Monday, Tuesday brought in another 2k in Amazon. I can't wait till I have my new bowflex treadmill set up, I will be sure to post pictures of it as well as all my other goodies I have coming in! Yes losers I show you what the true definition of current day wallet rape is. Modern wallet rape is not just demanding money, it is me taking it from you through remote access! I tease you to the point where you will NOT exit from your program but rather watch as I take way more than you ever thought you would give ANYONE! What can I say? I am that addictive!