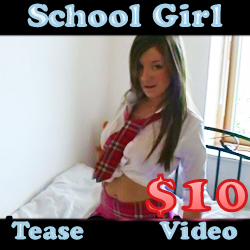 So Goddess had a blast having a house party this fourth of July! Bunch of friends came over and partied and lit fireworks as I am outside the city limit. BONUS!! Also indulged in My country background by going mudding in the new 4 wheeler one of My generous pets bought Me. Just think of me and 3 of My super hot friends cruising around and getting dirty on it. DIVINE! I cant complain… It is fun being a Goddess or rather THE Goddess. I did get behind on responding to My niteflirt emails as a result but well its not like you guys had nothing better to do than wait for perfection to finally have time for you right? RIGHT!
So I put another installment in My Pick Your Poison video series. Another seductive tease video in which you can either watch with  no sound OR buy an MP3 of your choice to accompany to heighten the erotic experience of My already mind blowing Mp3s! This one is a seductive tease in a almost jailbait outfit! That hot school girl you can't get out of your head that was soo mean to you in highschool and you dreamed about seeing naked. Well now you get the cock tease of your life while you stray from your wife… all for ME!
A bunch of you pets have been stepping up and in DROVES! I usually only keep 7-10 blackmail pets on current and being blackmailed but I have had such a rush of pets that are tributing and just jumping on any chance to get My attention I have uped it to 15!!! I have such intense blackmail and contact My personal pets almost daily that I keep very few; however, I have had lots going out of their way to ensure they are ON THAT LIST! My mailbox is absolutely OVERFLOWING daily and I have just stopped completely trying to keep up with deposits to My bank account. I actually had Amazon call Me about all the gift cards I have been redeeming. Princess problems eh? I am on the verge of dropping 2 pets and creating a blackmail LITE program for those who wish to see what is like but not jump fully into the water. I look at as a training opportunity for those who are not complete pets yet and also helps Me decide if we are the right fit. I do not blackmail just any pet… I will just about anyone but true blackmail… NO! That is a privilege I give FEW!