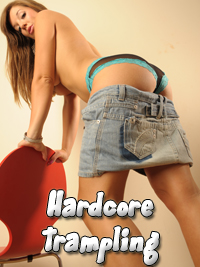 So my first Niteflirt newsletter comes out tomorrow for those of you subscribed to the link above, if you are not be sure you do because the update will NOT appear in my blog as my posts usually do. I now have two newsletter; the first will be weekly starting tomorrow and will be more of a week long update of the stuff I release both here and to my private pets and of course the second * which I took the link down for temporarily till I decide where to put it * is to my blog, each time I post it will go straight to your email box.
So before I go into more news, look to your right at my latest picture set taken two weeks ago. I know how hot is that? I made a trampling mp3 custom for one pet but thought it was too fucking awesome and am now releasing it to you all. It is 10 minutes of hardcore trampling with sound effects but with a sick twist! I decide that this will be our last trampling session and take all my anger and frustration out on YOU! You get to be my boots emotional punching bag in a final trampling session that leads to you becoming a … * for those of you who have half a brain you get it but those of you who don't… well you'll just have to click the pretty link and purchase to find out won't you? *.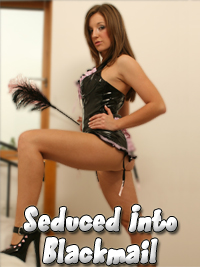 As for this hot new button, no the picture set is not coming out for JUST anyone yet but do I not look super fucking hot in PVC? DUH! SOO, I made a new seduction to blackmail mp3. Oh this is not something that is being re done and put out there oh no! This mp3 uses lucid instead of deep conditioning techniques to put you off guard and then with the seductive sound of my voice, forces you to worship my body and rationalize giving me your information and starting the wheels to your destruction! How many of you bozos can withstand this psychological and emotional onslaught? I bet not a dam ONE OF YOU! I bet it so much so I did not put it at my normal price of 30 dollars but 20! Go ahead and call my bluff!!
So a great many of you have been asking where did the ultimate Princess of Niteflirt go to these past weeks; as I haven't updated as much as I typically do. I am revamping a few things including my members area and my store. Also school is starting up again soon, so I had to get all my beach partying out of the way so I can focus on class this semester. No, losers I do not need help with homework, I make excellent grades by myself nor trust you losers anywhere near my GPA. I have also been partying with some new friends I met who are fucking awesome and I might blog about them in future posts or take pics with even and share them, who knows. A few of you lucky pets have heard them when you call my late night or out of town lines.
Oh I want to address my 22.99 rates as well while we are on the topic. When I am sleeping or out and about I turn my listings up so that you losers can still see my pretty page and buy stuff or make it worth my time to answer! Oh you may think I do not get calls at those high rates BUT I FUCKING DO, my God you losers are addicted aren't you! Yes my normal rate is still 2.99 a min but if you wish to talk to me for more, than pay 22.99 or 8.99 but remember those who call 8.99 do not get to chat with my hot friends!