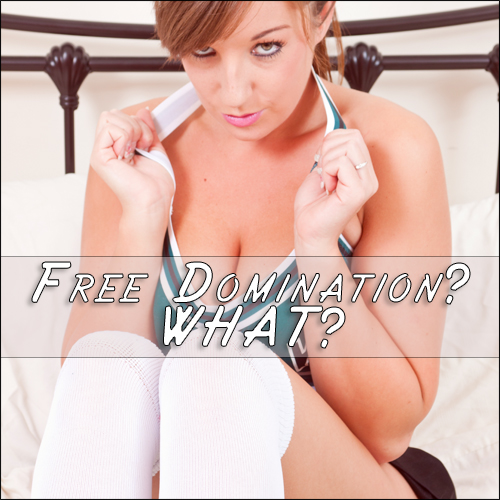 Why I give away mp3s, videos and photos? I get this question often actually… Sometimes from fellow Niteflirt flirts but usually from some idiot who hasn't bothered to research Me at all before contacting.
I thought the answer would be simple enough to understand but for some it must be elusive.
Flirts, if you're reading this, listen closely…
I have over 5000 mp3s (no not all listed… been lazy about getting them all up but if you scour the years of posts I have up… you will find the ones I put out for the general public. Many will never be publically released), 100+ videos, over 90 photo sets etc.. I now have over 13000 points on Niteflirt and a customer list of 50k plus….
I have more than proven Myself as a Domina on the interwebz. I was one of the first to put out previews because well… who wants to buy from some unknown? I continue to put out previews because I know what I put out is quality. I do not; however, give everything away for fucking free….
I am far from a 'free domme'. Back in the early 2000s, it was super taboo and looked down on by the large Domme circles for Dommes like me to put out previews and freebies here and there.. Those circles are largely gone now by the way of the dinosaurs. See, they got in on the ground floor of the internet when establishing yourself was easy. When things became harder, as Google's search became more advanced though… they didn't turn with the tide. More girls came to NF and the reign of the old Goddesses … DID NOT come to an end but rather they just let themselves die as they could not maintain their innovativeness or at least copy those who were clearly beginning to outshine them.
They rested on their laurels or as they may say their BDSM 'morals'. Many did adapt though are are still around but many GREATS who originally inspired Me are indeed gone.
I came in a few years after and thought about ways in which I am attracted to things. I go to movies because I liked the preview, I buy albums because I heard one song off the radio and I go to attractions because I read reviews.
I applied this to My early marketing and BAM! INSTANTLY following. It wasn't that My methods were/are inferior to other Dommes but at the time, I was an unknown.
I took My first wife outing recorded call and made a 2 minute preview and plastered it in every free marketing place possible. I was instantly established as the nastiest and most strict blackmail Domina and I still hold that title today.
I have slowed down the last 3 years as My vanilla life has taken Me away but STILL can make a clean 10k on Niteflirt a month without being around much.
You pets continue to come back because you always need more. The previews may be enough to get you off but not like actually interacting with Me.
So no… it is not free domination… it is just wetting your whistle! And if someone gets a free orgasm off it? Great… then their non submissive ass won't be contacting Me and making Me roll My eyes.