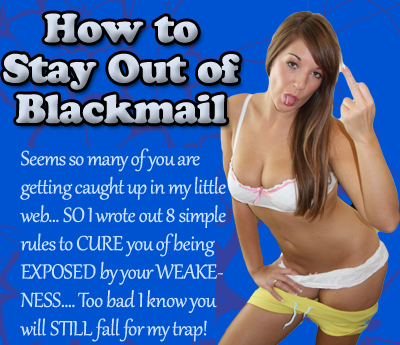 Again your Niteflirt Princess took some much needed vacation time to herself… I have moved recently to a new apartment closer to the Atlantic ocean so this summer I do not have to drive so far for the beach! Do not think that I have taken complete down time though as that would be a fallacy…
No this Blackmail Mistress has been busy with just a few choice pets and milking their wallets dry to pay for my new pad and car for that matter… perhaps I shall post pictures of the new Dodge Charger in my next post? Hehe. Do not think its too late to send tributes towards my new decor or even pay for some upgrades to my car. You can always go to my Niteflirt listing at http://www.niteflirt.com/Amberly to send tributes accordingly or send an Amazon.com email gift card to amberlyownsyou@Yahoo.com.
Back to the topic at hand though shall we? So I get so many of you losers who do not know or understand basic blackmail protocol and end up getting in over your head before you even know it. SOO I have designed this get out of hell free card for you. In this tell all Niteflirt assignment, I tell you what any Professional Blackmailer would expect from you and how to handle yourself when being blackmailed. If you follow my basic outline and protocol, while I can not ensure you won't be exposed your chances go from your natural 100% down to about 10%. You can experience losing complete control WITHOUT the complete fear of having everyone figure out how disgusting you truly are!
So I have a special assignment for you fetish heads, I need 3 pet piglets who wish to earn some points with this Goddess. I have a new web project coming out that will blow your minds, and all the Mistresses out there who read my site habitually as well!! But I need some prized pets to test drive it for me. Which of you retards will earn the chance? We shall see.