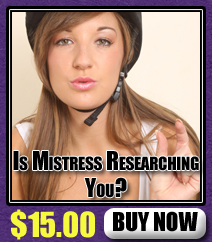 You read about all the losers who have fallen in this blog, all of the lives I have destroyed and all of the idiots who filled out my application only to get ruined by me. You think to yourself your safe… you haven't bothered to buy my blackmail application nor have you messaged me in regards but the truth is… Any one who is computer savvy realizes how much information can be gathered JUST by looking at ones IP address!
SOOO, find out how much information I have stored on you by simply clicking the ptv to the right and get a personalized message within 24 hours as to whether or not I have a file on going with your information… you might be shocked on just how much I can dig up on you when I feel like it pet. Please note, this is not the beginning of a blackmail contract… again I will not deviate from my methods for any person. This is strictly for fun! I love to see you losers freak out when you realize how much power I wield.
This week has been an interesting one! I have found a lot of new pets who think I do fantasy blackmail. One in particular changed his name to show me exactly how much he adores me… his name on Niteflirt. Trust me, little gestures do not go unnoticed but he seemed to think this entitled him something… He then continued to prattle on and on about what turns him on and what does it for him… Again I LOVE using information against you and contorting your sexuality to bend you to my will but I will NEVER and I MEAN NEVER, sit and listen endlessly as you basically tell me what to do to you…. we call this topping from below. I am not "paid" to listen to what you want and then alter it and give it back to you… no the Amberly experience is beyond anything you can think of! I not only use the fetishes I LIKE against you but often times can make you enjoy fetishes you NEVER thought you WOULD! That is what I call real domination… I truly is all about me pets, don't you forget about it.