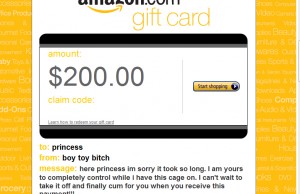 The first bozo here that sent me all the amazon gift cards is a drunk little bitch who fucked up and told me all his real information. Wasn't long before he was trapped!!!
I blackmailed his ass till his bank account had no more left in it. Can you believe he only had $600 in his bank account? How pathetic… That is why you see the $2.57, I literally took everything. Oh the pictures of him tap dancing in a tutu with a barbie doll is priceless though.
Then there is my sissy michelle, my latest pet to get on my radar!
As you can see by the tributes he has been a busy boy! Sending me 100 after 100 trying to please me and also keep his sissy self from getting exposed. Yes I am even blackmailing him! His ex girlfriend doesn't know about his devilish secrets but I DO!
I do not only talk about blackmail though it is something I relish in quite a bit. I love talking to michelle about pimping him out and taking him to parties and shopping trips! Anal training is about to be a huge part of our repertoire. If we are to give him a party with tons of cocks it only makes since that start working his butt and getting tons of butt plugs in it.
* as of the ending of this post, michelle has tributed another 200 HEHE! *