So you guys often ask me, what it is like to be completely destroyed by me. I decided a simple screen shot would show this well.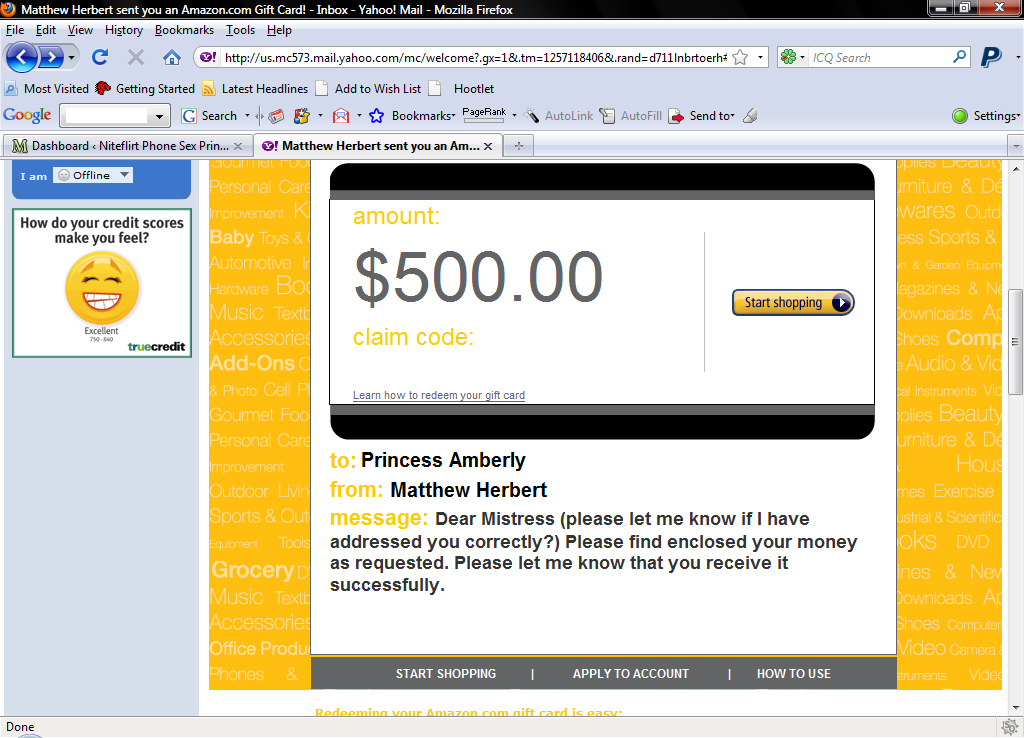 Matthew came to me not wanting the blackmail that most of you fools drool over. No he just wanted to chat… So I made him first send me a 60 dollar gift card and we did just that on yahoo. Talked about sports, he found I am a HUGE NFL lover, about clothes and school, family, friends and all kinds of just basic stuff. When I would hint at fetish he would politely say no he wanted to get to know me. So we kept on… and on… one hour later I told him to pony up some more. Another 120  hit my amazon account! FUN!!!! So we chat for another 2 hours. During this two hours I wrote down all kinds of things he mentioned and in the last 30 minutes decided that I would spring my trap! I mean he just tossed almost 200 at me for just talking, think about what I can get once I am inside of this bozo's head!! And he thought we were just playing nicey nicey!!! HAHAHAH FOOLL!
SO… I exposed him in the chat session, showed him is weaknesses and got on webcam to expose them! It seems that some one he knew growing up was a cheerleader and younger than him. He had a HUGE crush on her growing up and since has this fetish for cheerleaders. He can only get off when thinking about one!!
ON webcam I showed this loser my cute cotton full backed panties and pleaded skirt. I grabbed my pompoms and shook them about driving him NUTS! He wanted wished and begged for release and to even touch himself. But it wasn't till I got the tribute above did I let him.
He was dumbfounded after the fact; confused and dazed that after a few hours of talking about the most bland stuff that I could pin point his weaknesses so easily and lull him into a sense of complete security!
I hear you quaking in your boots, I can feel how scared you all are; as you all should be. See I do not play nice and I do not play the games many of you would be "pay piggies" are after. I simply work over the REAL DEALS. Poor Matthew learned this the hard way. He wanted me to force him to tell me what I wanted to know; not knowing that I a being of higher intellect could deduce what he likes through the vanilla stuff that he likes. This is a high stakes game… who wants to play??