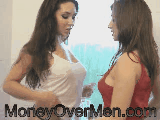 So on to the fun stuff first right pets? I know you Niteflirt addicts have such short attention spams its. So my submissives first is the latest video for me to release and the small 4 second preview I put up to the side, like it pets? Oh this one has sound as well. Isn't Dani totally hot? Hell yeah she is. We did a short teasing video and no your DENIED your orgasm even when watching it pets hehe! This is going to be a blue ball weekend isn't it? Try not to get too much drool on your computer as it might cause damage and or totally wreck it! I have to say this is one of my more tame videos but the tease is to die for… and who knows as old as you guys are it JUST might do that. Pace maker wearers you definitely want to buy this I mean what better way to go out  right?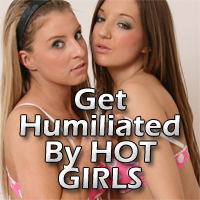 Oh and now for my new hot assignment! This is a public humiliation assignment designed to specifically get you totally wrecked by the females! You Niteflirt freaks will go crazy as your Mistress Amberly forces you to publicly show your shame to hot chicks of your area and also trick you into blackmail! Oh yes!!! You will not see this coming and well you will HAVE to send me the pictures I ask for through this assignment. I mean if you don't the person I will get contact with, from you just DOING THIS ASSIGNMENT AND SENDING ME NO INFO, will then just give it to me anyways!!! We will BOTH then totally take you over then!!!! HAHAHA!! pets this is my most manically assignment ever and it will bring you to your knees and make you BEG to get out of this blackmail contract. Unlike my other blackmail contracts though… this one is FOREVER!!! I will NEVER RELEASE you without exposing you.
SOOO last weeks question was a hit apparently as you guys jumped over each other just to ask questions and discuss blackmail and its ramifications and get definitions on my style of blackmail. Glad to see many of you caught on so quickly on why my blackmail is so effective and potent. So I thought I would continue you this this week however there is a hiccup….
I did a bunch of mp3s last night but I lost them all when my laptop crashed because I didn't pay attention to the battery power, and I tend to ignore the pop up warnings and not really read them … oppies… SOOO I did this new assignment which I was going to release with an mp3 but oh well and a new video instead.
My new question will be posted HERE so be sure to book mark THIS specific page and not the moneyovermen.com home page . If you are reading this on my homepage click on the top link saying Mistress Humiliation in order to bookmark the right page. This way you can check back in on the right page as I am going to make an mp3 post tomorrow, if everything goes well.
WITHOUT further dalliance, this week's submissive feedback question is: Is a Mistress's beauty in the brain or body?
My views on this loaded question:
I've seen some drop dead gorgeous girls who claimed to be "Mistresses" and upon reading their blogs or tweets… I would know instantly they were NOT! They were nothing more than a hot body who got turned onto something that could be lucrative. Now because that some like that and they are doing no real harm to me, you will NEVER see me call anyone out. I mean why send someone free traffic and give them free recognition right? That and my blog is selfishly all about me hehe.
On the flip side, I have seen some people I personally find unattractive who are fucking amazing Dominas. They are engaging to read and for those who I have had the chance to hear their voice really know how to articulate and saying stuff other than LOSER repetitively. Oh wait isn't that what seems to now dub you as a Mistress when you parrot back the same 5 insults over and over? Please note the sarcasm there.
Perhaps it is because I am woman and we are more cerebral stimulated than men but being a top is in the mind first for me. To say that looks do not matter would be to lie, but it is also relative. Some of you guys love the big fat flabby girls who could roll over and squish you and that's fine…. not my cup of tea but fine. Others of you want girls so freaking skinny you can count their ribs and vertebrae… again nothing I would wish to gawk out and rub one out too but to each their own.
For those of you who are TRUE submissives, and not just guys jerking off to the idea of being dominated, how do you feel when someone seems totally out of their element and simply trying on shoes when they claim this is who they have been since they could remember??? Do you feel you need to then guide them * to that I ask then who is the REAL DOM/DOMME?* or is it your just to sweet to disengage the communication?
This was started by someone , can't remember who right now, who talked about how they had to guide someone they called on Niteflirt in how to blackmail them.