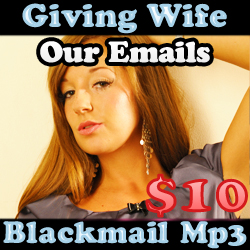 This was a custom request I thought I would release to everyone. I have a new blackmail pet who loves the idea of Me giving his wife all of our emails and yahoo conversations. Though in reality this would be disastrous for him he loves to fantasy about it. I decided to cut him a bone and let him visit this idea in a pseudo reality by creating this Mp3. As long as he stays a good little slave then he has NOTHING to worry about right? HEHE! Imagine your poor wife reading about how fat and ugly she is and how you would do anything for Me; scratch that the tasks you have done to prove your devotion to Me! It almost brings a tear to My eye of course out of the sheer hilarity as she fumes thorough the months of correspondence. I wonder how most of you plan to explain THAT away?
In other news, I have a new laptop on the way brought to Myself in part by one of My newer sissies and another little amazon shopping slut. Yet another 300 in amazon for Goddess this week. I bought so much last week I had some left as I ran out of stuff I really wanted THEN I broke My netbook :(. But like the true Goddess I am I had it replaced within an hour :). It will be here on Monday. I personally LOVE Toshibas outside of Alienware. I also got a new kaboodle for my make up and a full set of 3 palettes from coastal scents mmmm eyeshadow :D. No Goddess should be without Coastal Scents and Lush! Remember pets you can send all gift cards to amberlyownsyou at yahoo dot com. Goddess loves to be spoiled 😉
Oh who knoticed that My pet paid to have his pictures taken down from the last post? Another 200 pet to keep it that way!! First to comment on this blog post will receive a picture of Myself to celebrate the great mood Goddess is in.