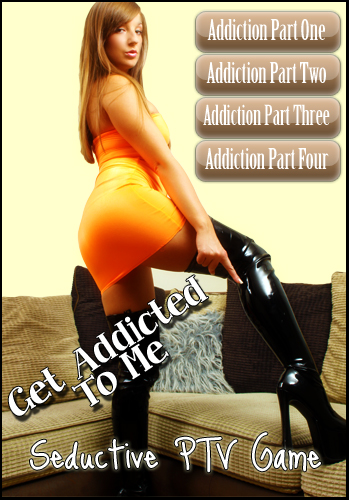 It has been a while since I have done an actual blog. Life of a Goddess is ever busy. I have been particularly busy with Richie; he really wants me to take on govern over not only himself but his girlfriend. You guys remember him!?! I found his girlfriend on facebook and made him pay to take down the link from My blog. Well he hasn't gone anywhere even though I am constantly swatting at that fly to leave Me alone! He just continues to tribute and beg Me to take them on. He has gotten his girlfriend used to reading about Me and watching My website. She doesn't realize but she is about to be on the ride of her life!
OH yes to the left is one of latest addiction games; seductive and designed to entrance and entrap you. You have been warned.. No seriously, do not play this game if you do not wish to be eternally Mine. I priced it slightly higher than some of My other multiple ptv games just for this reason.
I have not been taking calls as I normally do on Niteflirt being as I have an everlasting cold that makes My voice sound less than perfect; if such a reality exists. I have been taking a few calls with slaves that know Me well however and do not mind. I love having such a personal harem of pets that even when I feel My worst, they are so attention starved they will think it is still heaven. You feed My ego yes yes you do.
I have put out a few more mp3s so be on the look out in your inboxes ;).
I am also redoing My niteflirt listings and website once again. Always onward and upward when it comes to tempting you losers and putting out the very best content 😉