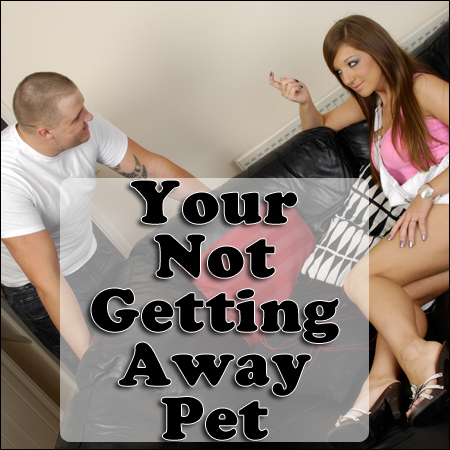 I have a special pet who is very 'weak' for Me, more so than any other pet. In fact, I gave him his pet name MrWeakling. He is addicted to My voice, he is addicted to pleasing Me and really has given up ALOT in order to call himself Mine.
Have I let him go in the past? Depends on how you define it. I did let him out of a contract once but trust Me that he still comes around. In fact, he is slated to be contracted by the end of this week. I love making pets crawl for Me and come back over and over again to their Financial Mistress.
Mr. Weakling though is indeed special. He tries so hard to stay away but he just can't seem to get it right. All it takes is a quick 2-5 minute voice mail style mp3 sent to him via Niteflirt and he is on his knees begging Me to rape his wallet. I think I bring him the most enjoyment out of anyone in his life haha.
With him, I am not a super strict Domme because he is ever respectful, no.. with him I get to be a huge tease. He never steps out of line so it is nothing but edging him to orgasms and then denying him. He loves it though, clearly. To tell the truth, all of you pets really love My style of teasing.
What makes our connection so dynamic though is the fact that I continue the cat and moue game and I do not think the poor little submissive pet even realizes it. I like to tote Myself as a lazy Domme who goes after no pet but there are a few like weakling who are fun to let go and then go chase after. Seeing him stumble over himself after he thinks he has broken some addiction is absolutely adorable, an ego stroke and hysterical all at the same time. He always tries to keep his composure but that submissive male in him always gets the better of him and that is when I spring My trap.
Yes My pet, you will never be able to truly get away from My blackmail but, I don't think you even want too. Then who would you have to turn you on and keep you constantly hot and bothered? Your wife? Oh that's funny!