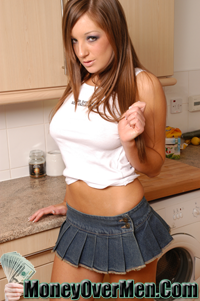 It has been a while since I have done a none promotional blog post and I have deviated far from my blogging roots and my personal touch. Sigh… What can I say?? I prefer to now rape wallets than actually talk to you fuckers about your lame ass fetishes. As my popularity has grown, it seems my interests have also shift as well.
SOOO I have moved out of the sorority house almost completely; though keeping my room so that I can remain in. All the girls tell me that its totally ok if I were to move out, they would let me be honorary. Apparently, I am always the life of the party * as if I didn't already know that?* and when I am not around apparently everything sucks major ass, again another thing I already know!!!
So why did Princess move out? Do I not like the girls I get to play around with or tell the stories of you idiots at breakfast and laugh or have you do their homework? No!! I just wanted my own place to crash and to spend more time with my personal live in slaves. Now do not get any ideas… these losers have earned their positions in my cold dead heart over a LONG period of time, none of you losers have a CHANCE so do not delude yourself!
As many of you that follow me know, I stray from a monogamous love lifestyle. I prefer to have about 12 guys on call and change them out as often as I change shoes or underwear. Guys bore me after three days I find and make better fuck buddies than steady "mates". I make sure my flavor of the hour knows exactly what his job is; to simply please me in a physical manner, and then be off, feelings make these things messy right?
Well one of my pets found out about one of my dates and that he actually knew this guy from his job. He attempted to get close to him in a very twisted and rather backwards way of being cuckolded. See he didn't want to pay for my expensive dates and outings, just to hear the juicy part. Well rumors and all things said behind ones back comes to light, and usually quickly when you have as many admirers as Moi and it wasn't long till dippity do loser found himself in my cross hairs. My little maid soon was turned sissy by the same real man he looked up too!!! Have to say that was amusing!
I have a few vacations coming up, one in July. I am headed to Dallas to visit with family for a weekend and then off to Vegas to hang with some girl friends during that following week and up to New York for some shopping before coming back home. About two weeks of jet setting and tons of FUN! For those of my preferred pets, there will be plenty of pictures for those who tribute for the trip and keep me pampered.
For those who follow my private twitter, you should have discovered I have asking for lots of submissives lately. This is due to my new site redesign, new site as well as new Niteflirt store site ; all of which are coming out within a week to two weeks. I have been making use of you idiots by promoting myself and doing the various tedious jobs that I have not the patience or time for. All those pets were well compensated by not only becoming proud pets of moi but with unseen pictures like the one featured here in my blog today, hehe.
Also if you losers have been stalking my niteflirt page, you may have seen that it sometimes goes as high as 12.99 a minute, this is not a typo. I have decided for max exposure to you unworthy losers, that when I decide to go to bed, rather than log out I shall jack up my prices. You can now reach me at any time that I am not in class bitches, but it will cost you!! AHAHAHAHAHA!!
Gotta run you drooling morons… stay tuned, this week I have a challenge for you all. Those in my preferred group have already done it and most are still shaking with a divine mixture of pleasure and terror!!!!