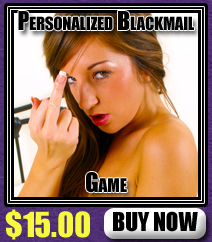 Blackmailing One on One: Personalized Blackmail
Forget Blackmail For All, Personalized Blackmail JUST FOR YOU!
That is right pets, Goddess has created a new Niteflirt pay to view game that is tailored just for you, my Personalized Blackmail Game! I guess the word game isn't the right word as it is more of a personalized experience into hardcore blackmail. The first part yes everyone gets but the responses from there are tailored just to you; to seduce you, to entrap you and bring you to exactly what your dick is dreaming of and your heart fears… being completely financially and mentally and sexually dominated by moi! Don't get me wrong, all of my other blackmail games end with lots of personalized blackmail HOWEVER this is it from the beginning.
After you purchase this first part and follow the instructions, you will get a personalized response tailored from me and begin your seductive fall. Yes I have a list of those I am going after but I have so MANY of you this is a sure way to get under my thumb in a matter of days… depending on how you act during your personalized blackmail experience of course. You will get owned by the most devious blackmail Mistress to step foot on the face of the Earth and you won't even realize how I did it pet. Well unless you buy my previous pay to view outlining many of the ways I obtain information on you hehe!