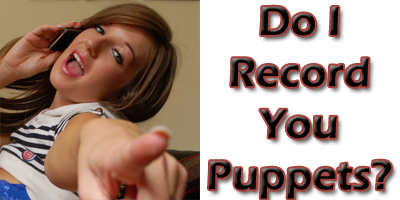 Undoubtedly, when your stroking off and getting close to that sweet orgasm you little addicts are do desperate to achieve, do you not think about the un-sexy and unsettling things that are tap dancing behind the scenes. You tap dance with a renowned blackmail Mistress thinking you will be the one to escape with your dignity and life intact and believe you really won! Oh my fickle and rather funny phone sex dunce, you could not be any further from the truth. In fact, you are 110% wrong in thinking you are secure when you do not leave comments and only call on Niteflirt. You have given yourself away in your weak erotic moment and didn't even realize it. In my Do I Record mp3, you find out the rather scary truth of how I trap a good number of losers once they are my blackmail pets and how I have kept a good many under thumb for several YEARS now. Will this information save you from the same fate or make you dive deeper?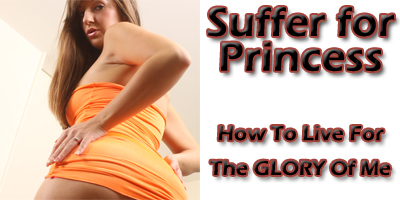 The pain of being without Me, the Ultimate Goddess, is truly unbearable for most of you poppets. Yet, it has come to my attention that there are a great many of you who do not know what it is like to truly suffer for a supreme being. No one has ever drug you so low you can not imagine escaping or even wish too! My latest, Suffer For Me, mp3 will force you deep into the addiction that is Mistress Amberly. Using lucid hypnosis and tad of Mk Ultra, you will feel yourself loosing your train of thought and being consumed by the fifth element that is Amberlyati. Learn what it is like to be devoid of everything you do not need to survive in order to glorify your Goddess.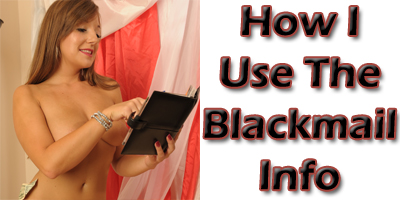 Ever wonder how I use the blackmail information I obtain? Where does it all go and how do my little losers get exposed? How does the information travel so fast and how I am all over the internet for being the most unstoppable and ruthless blackmail Mistress? Simple and all outlined in THIS mp3!!! Warning though… if you were thinking of becoming one of my blackmail pets this will totally scare you away from it. I show you in gritty detail how you will go from one second of normal life to an hour later of totally ruined and unrepairable life! Think this will help you avoid the traps others have fallen into or just make you fall down that rabbit hole harder? We both know the answer pet so click and buy!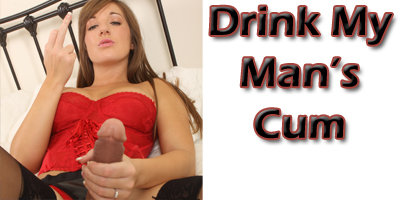 By popular request, my mighty Drink My Boyfriend's Cum Mp3!! This is for you huge cock worshiping and cum slurping faggots out there. Grab a napkin for your shirt and your tinkle shoes Tinkerbell cause its time to show me you REALLY will do anything for your Mistress! I guide you explicitly into the forced cock sucking and bukkake experience in which you suck my boyfriend's cock for me. Sometimes a girl just doesn't want fuck and has better things to do, like spend YOUR money, and that is where you come in chum smacker. You will service my boyfriend in full and await your frothy surprise at the end. Oh but wait there is more! A hot twist at the end of the mp3 JUST for YOU losers!
– – – – – – –
Ok so update time…
I have been so busy with school and my impending move this coming Spring that I have had time for little less than an update once a week on my blog * cries *. I do miss the days where I could come here and rant and rave about things other than my latest videos, mp3s, picture packs and assignments / games. I keep trying to make an effort but well it always seems to fall through. So is the life of someone with a life right? Though have to admit, laying out on the beach and chilling is super fun!! You losers actually seem to enjoy it more when I am NOT around quite as much. Even at 22.99, my NON normal rate, you bozos still call and not just for a min or two but sometimes up to an hour! I thought Niteflirt accounts limit was 1k a day but some of you boys are platinum with Niteflirt now and can spend more each day; trust me I am not complaining.
This has been a record breaking month as it is mid month and I am already breaking 17,000 on Niteflirt total. Now that is total calls, sales and tributes!!! Mainly sales though as my tribute buttons count as sales as they are buttons hehe. I now have 1 spot open for a blackmail pet as well as one did finally pay the buy out. I shall dub him Senor Smuck as he is a Jew bastard that finally did his buy out to be cut loose from my lethal paws! Good on him too cause his next months renewal was going to be QUITE a bit more than his buy out. Oh I know, you should have waited till next month to allow him to leave… Well I prefer money now to money later, as who knows in this economy what might happen.
SgtSavannahsRecruit is back and boy do I wish already he would go away. Really out of all the annoying ranters I have ever spoken with he is the most… He paid a nice 1000 to get back into my good graces… lets see if he stays there, and I SERIOUSLY doubt he will be able too.
My wishlist is again bare bones as Eric has sent about 3k in amazon gift cards too me. YAY! That is total and not all at once now class.
Ok well Your Princess of Fetish has to go for now as class is calling me but hopefully I will have time for another update mid this coming week WITH some NEW EXCLUSIVE pictures!!
Before I go though, I want to start a new trend. Each post is coming with a question to you readers, and there are a TON of you now. Feel free to leave the answer as anonymous.
Have you ever considered blackmail or do you just enjoy the fantasy of it and watching as others get exposed the way you fantasize about being exposed?