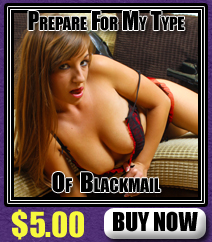 Prepare for my Blackmail Subbie:
That's right my blackmail lovers, after the massive success of my blackmail one on one game I am simply forced to create a guide if you will for what is about to happen to MANY of you. I hate having to repeat myself so I thought it would be wise and time saving on both parts to create a way for you guys to be able to prepare prior to contact with me, or even for those who are in contact with me… you can get ready for the future ahead of you. Included are 3 tease photos just so if the detailed telling of what is possibly to come of you makes your stomach feel all jelly like you wont want to back out 😉 Wouldn't want that to happen would we you little blackmail slut!
Blackmail Mistress on the prowl:
I have over 50 comments in my cue from last weeks niteflirt blackmail pay to view! They will not be published for now as per the instructions but they are all going to be saved and well published should ANY OF you dare to cross me. I know I haven't updated my blog as often as I once did but many of you know I have been running about with some local Mistresses in the area. I have a photoshoot with Carmen Dioxide on the 7th that I am VERY excited about. If you would like a custom video or photo set you know how to contact me pets. We still are awaiting her account to be approved so she can not sell photo sets or video on her account as of yet but we hope in the next week or so we can get that done. Till then I collect pay to view/tributes for her and we laugh our asses to the bank as you pets drool over her. LOVE doing the 2 girl calls with her and a very lucky blackmail pet of my strauccs even got to see us both on webcam recently.
I haven't heard from my teachers pet David in a while… this makes Mistress sad. One of the few pets I actually enjoy speaking with and teasing till he can not hold it anymore and explodes. Out of my new batch of potential victims I have to say wood is looking very prime. Till now he has been a bench warmer in the blackmail Olympics but now it seems he is beginning to step up and learn how to properly gain and maintain attention and show he truly wants me to weave him down that dangerous and oh so exciting world of true control. I also had a bunch of flops… One WANNA BE slave proclaiming his wife already knows about what he does and that to own him I will have to prove myself first.. Clearly this idiot didn't do his due research himself. With live calls to wives, bosses, friends, and other family members you all know how dangerous I can be but this bozo… no clue. I didn't bother to answer him back at all. Attempts to bait me will never work.. that is not true control. To bait someone they have to care about the outcome or have no better options ( which I guess is still caring ). I personally honestly DONT care if you guys fall to me or not. Clearly his wife isn't cutting it if he is trolling niteflirt for his kicks LOL. He would be the type of blackmail victim that ends up being outed to the world and on the news in less than 24 hours with me… and trust me… NOT worth it. I like having fun with my prey first before I devour them..
Wonder which of you pets will be worthy enough to be mentioned in Mondays blog post?