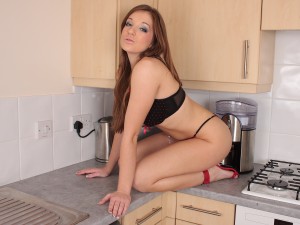 There is a secret to reprogramming your wives sexual responses, this Princess of Niteflirt knows exactly how to do so. Soon you can have your wife doing whatever you want, say or desire just be giving her a look…. but that is only if you follow my lead to a tee! Yes I believe in true 100% female domination but I know there are some twits out there that don't connect to the natural dominance that us women have over men. It is these women that also have a purpose to me as well as you pathetic losers that they marry. That is the women exactly that I am targeting with the assignments below.
Part 1 Part 2
By reprogramming these woman's sexual responses, you will be able to pimp them out. Now why would Princess write assignments that would make your wives benefit you? Simply because I know your loser asses are addicted to me and most of you dumb ass's can't afford me, I have designed a way to make your wives apart of my profits as well. Now not only will your wives be no longer completely useless by their continued humiliation via blackmail by your favorite niteflirt princess of phone bdsm; but you can finally get some pleasure out of them via being their pimp as well as cuckold! Pictures of moi are included in the assignments as well, just to give an added bonus and further convince you that THIS is indeed what you want to do; completely humiliate your wife and follow the ultimate home wrecker assignment!!
Still some are wondering why I would take an interest in destroying you wives? This answer is as well simple. Humiliating you phone sex addicts gets old after a while and I relish in the fact of destroying those who enable the addict. I know your wives look the other way at the Niteflirt phone bills, the increased debt you get into via your credit cards that you use to fund your Princess's/Mistress's/Financial addiction all together. They allowed you to become the sniveling little pile of puke that you are! Look at Emma! She has done the most HORRIBLE acts just to keep her loser husband OUT of the fire. If women choose to be so stupid, they deserve to be exploited along with you phone sex addict husbands.
Others of you are saying, what the hell? Your outlining how the husbands can now make money off their humiliated wives? Why would they still seek you out? I shall answer a question with a question in this case… how many drug dealers indulge in the drugs they deal? I have already turned you into a humiliation junkie of some sort, now its time to turn your wife into the same humiliation junkie. Once shes making money, you the phone sex addict, will then pay me for even more of  the drug that you crave and suffer from.