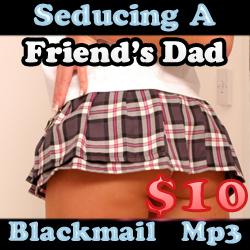 Lying would probably make all this less deplorable but I actually prefer the naked truth in this one! While this mp3 was requested as a custom I decided to release it to everyone as it reminded Me of an extremely hot time I had in My perfect life. See as most of you know I have always been a bit of a seedy one and learned early on that being a girl had some sweet advantages. Older men have always sought My attentions and I never swatted them away provided they gave Me something of interest.
Well that part most girls will admit too but I personally have used friend's fathers and family members for My gain. It wasn't difficult to create situations in which they would be around and lets face it, with a body like Mine it is not difficult to fathom that such men would fantasize about Me. I have always been good about blurring the lines between fantasy and reality to give the poor fools hope that they too could have Me.. Once that hope was there, their wallets were open!
In some cases though, it took a bit more… persuasion to get the ball rolling. If you like homewrecking, you will love this mp3.
So enough about the mp3, as many of you know I took a trip recently and had many of you paying for Me via Niteflirt tributes of course! I had a blast! I love having My own personal wallets who will spoil Me at the drop of a dime, or rather drop their dimes for Myself. I am settling back in now and getting ready to launch the book that everyone is asking about. It is rather annoying I have to admit, I mean if the book was out trust you loyal readers would know about it.
A great way to ensure you do not miss out is to sign up to My newsletter found on the sidebar of of www.moneyovermen.com! You know My blog that you stalk!