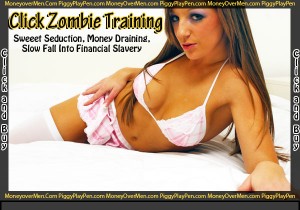 Extremely Seductive Training Game:
Yes your favorite seductive Goddess has been MIA a tinge at least with blogging. I am still working on www.piggyplaypen.com as we speak and also updating this blog * will be the last on my todo list but worth the wait * along with the festivities that go along with July 4th. I forgot how busy the summer can often be. Summer is often when I take time to really focus on my websites and get much of my to do list whipped into shape. I realize your lives change quite a bit during the summer so having non phone options that keep your prick tingling and addicting from waning is exactly what you need to stay under the ultimate seductive Mistress's thumb.
Anyways back to what is featured to the right shall we? I created a new game to teach you pets how to click.. and PAY! Yes you would think many of you do not need this type of training but it is glaringly apparent that quiet a number of you subs searching for a seductive Domme do not know how to follow through. You see a page full of ptvs and read descriptions but do not click. I would love to take credit for this game but alas it was inspired by the great Sydney Spade. We were chatting on the phone the other day and bouncing ideas of how to abuse you fools and she gave me this idea and I gave her an equally horribly amazing idea for a ptv :D! You will find 20 buttons pet and it is your job to click and see what prize you get. Each prize will bring you closer to becoming a mindlessly seduced pay puppet for Princess!
A Word on Being Truly Seductive:
This post was doubly inspired one might say by the lovely Sydney Spade and another non Niteflirt friend of mine. The later reminded me of what seduction has now been contorted into versus what it actually is. A naked lady can be both naked and seductive and alternatively both naked and unseductive. No that is not to say that beauty is solely in the eye of the beholder but it is that grace that is carried with them and is portrayed. Example to my left : Kiwi Candy.
To me she is one of the MOST seductive submissive pets on Niteflirt! Holly is hot and kinky and fun to pull her dominant side out of yet keep her under me and Lilly is a true treat with her hot body and the fact that she is married and I own her entire life… but then there is Kiwi.
Nothing tying me to her other than my fatal attraction to how alluring it would be to own her! She is soo seductive, I hunted down her ip address so that she will have no warning about this blog post and that I have my sights on her. Don't worry pets, over the course of this week I will be using a great many of you to help me capture this seductive little tease and begin training her to be mine.
Her allure is not sheer beauty but also brains as she is not easily captured. If you are not her intellectual equal you will not find yourself owning this little minx no… she will easily allude you and top from below and the best part is you will be none the wiser. You will sit there with your freshly whacked penis believing you showed her when actually you were the one catering to her…! Intelligence not beauty to me will always be far more seductive.