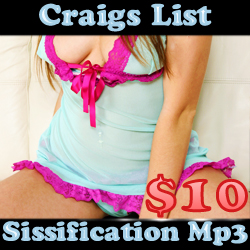 So pets lots of updates. Trey received many calls and complained to Me that he didn't want blackmail BWAHAHAA. This was not blackmail pet! You don't follow through on a promise well.. you are taking your asking for whatever consequences come. I have heard that he has disconnected his phone.. I would say I would confirm this but I honestly dont pay him much thought at all.
Onward and upward as ever, I am creating a sissification series in My already extensive Mp3 library. My latest one is Craigslist Sissification! Ever wanted to be dressed up and seduced into going beyond your limits for Moi? I have taken a huge loving to toying with your mind and making you think things that were once too taboo seem like the exact thing you desire. Dive a little further for Me and listen to this taunting mp3 in which I show you and encourage you on how to be pimped out for Goddess.
Goddess also has a new message from Holly, you know one of My Niteflirt submissives! Check it out here pets:
She will be doing a lot more assignments in the near future and you pets shall be allowed to help Myself train her. I simply have too much going on and well Holly deserves more attention or she tends to get a bit unruly!