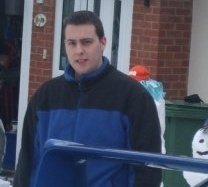 So this is my latest loser to fall for my blackmail assignment. Such a sucker! He sent me his information but left out a few important details so here is his picture for now… I might post his real information later if he doesn't send the proper information as well as a tribute for wasting my time hmm Pete from the UK!
So my trip to New York City was fun and I had tons of fun with you losers on Niteflirt while there. I did miss one call  though as I was partying and didnt feel my cell buzz, so for a bit of the weekend my phone lines were off. For those of  you submissive's bitches who didn't get through, what can I say? Sucks to be you! I partied at a few clubs and laughed at a few comedy clubs and toured the NBC studios and saw Saturday Night Live be flimed; gotta say wasn't what I thought it would be, that stage is tiny!
Back to the matter at hand, though shall we? It is so odd that you guys trip over yourselves over ONE Blackmail task * seen in my post below * in order to expose yourself. Of the 2000+ copies that sold I got an astounding 1500 responses. From the completely complete to the barely any information you guys jumped at the chance to screw yourselves. I have been BUSY going through each and every response and picking the ones that shined to me. Those of you that made it through got quite the nice surprise did you not? *giggles* Those of you who heard nothing back its simple… you didn't make it through and your both to stupid to be of service to me and obviously would be of no use to me.
My Niteflirt lines will  be on longer than usual this week to help catch up on your Amberly withdrawals as I will also be on yahoo more often than not till I once again drain you all dry of the money we both know Princess deserves! Its been actually hard to catch up on my custom recording requests being as you guys KEEP asking for more and more time of Princess; don't worry though pets only those who pay get my attention! On that note, all those that read my blog religiously and message me and wonder why I do not message you back… the answer is quite simple… chat is a privileged not a given. Those I think deserve my time get it, those who don't don't.
Well off to the movies late night with some girl friends then drinks at the bar that you guys of course are paying for!