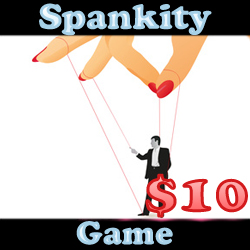 Only the best new game in town pets, I have made another game for you pets to get even more addicted to Me. I call it Spankity. Try your hand to see if you can manage to beat Goddess and get that long sought after jerk. I love bringing My pets to their knees and making them suffer for My pleasure and this game does exactly that. You will find yourself twisting with torture and trying to desperately beat it. I can't wait to see how many of you try and fail/succeed and yes it will take real fortitude to win pets. It is also designed to turn you into the proper little stroke and pay junkie you know you should be. I am far more deserving of the bills you work so hard for so get your wallets ready pets this will be fun!
In other news I am truly enjoying my sissies Vanessa and Sarah. Both have been dressing up for me and keeping Goddess very entertained. Sarah is going into an online game for me and going to pimp her ass out for again… MY GAIN HAHAHA!! I made her make a blonde bimbo and go hit on all the male characters!
Speaking of sissies have you seen this big bear?  UPDATE PAID TO TAKE IT DOWN $400!!

wful just awful I tell you! Click that picture, I made this sissy slut buy girly clothes. This is the dumb ass that sent me the confirmation of her purchase with her REAL INFORMATION ON IT. Oh sweet pea… If you want this picture down then you better pay well to have it done so! I died when I saw this picture literally died. It is hysterical. That is far too much wanna be man to be trying to put on those panties. Oh so frilly!