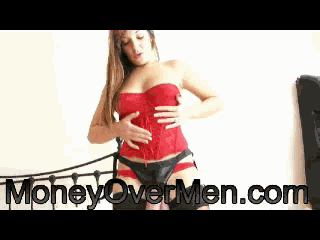 You guys have been commenting and asking for a strap on video so here it is! 7 Minutes of the most wicked body and mind out there. I love training My sissy pets on how to suck cock, train their ass and of course drink cum. There is nothing like watching my pets become truly feminine for My massive slong and down all eight inches that is 3 inches around! Look at those glorious tits and sweet hourglass figure, you will be putty for My strap on! The ending is also just as special ;). Watch as I masturbate after pounding your ass. What? You didn't think I would let you cum then not get Mine did you?
In other news, had an Ireland 'pet' contact Me… wanted blackmail with no way to back out and tributed 500 BWAHAHA he 'sent Me' his 'info' thinking I wouldn't be able to really verify it… Newsflash pets! If you do not follow My instructions to the letter, it won't matter how much you send… I will move along to the next weakling begging for My attention. You're just another brick in the wall until I decide you're worth taking out and inspecting. If you want My attention? EARN IT BITCH.
Also My ever amazing Sissy Sarah again paid for a nice lunch for Goddess :). So sweet to see random acts of devotion, this is why she continues to be one of My PERSONAL favorite pets. I have always found it amazing how one pet can tribute 500 and another can spend 50 and the one who sends 50 and acts like a good pet will get more attention than the idiot who spent 500 as if I now owe him something.
By the way? Who has found out about the Cummittee?