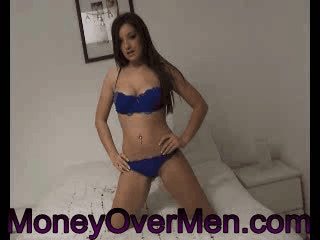 I waited a long time to post the results of my challenge because well.. you all failed to complete it…
Oh but Mistress I didn't cum, I held it out… blah blah blah I know you lied, I am no fool because had you not been giving into your needs you would have been listening and following the instructions…. Instead you wanted your reward as well get off…. Only ONE of you losers managed to pass it ( a total of 300 of you bozos…. was a very lucrative weekend for Princess ) and he enjoyed his reward quite immensely… so what was his reward? I gave a hint of it in the comments of my last pot but that was not all hehe. It wouldn't be a reward if you KNEW what you might gain from doing the challenge… so this go around the reward is DOUBLE what it was had you passed the first time you losers. IT was fun collecting ip addresses and getting information on all the idiots who posted though!
SO here it is pets ROUND 2! It is ONLY for those who bought part one, I stripped the audio just for that reason! I have a HOT TEASE video to REALLY warp your brains. It is to be played in conjunction with part one, both parts sold separately, and I betcha not a one of you will pass this time!
If you have been following this blog and my twitter, you know my site is about to get a facelift as well as my listings… and it is coming dont worry about that pets, it just got a minor set back. I bought a flash listing thing and it seemed ok at first * really not designed well * but turns out it doesn't scale at ALL and the developer is way  too lazy to talk to his clients in order to make one that FITS everyone… even when offered to be paid extra… L A M E. SO I found my own little flash designer and in conjunction with my knowledge of flash, we are making something that is totally bomb and I want to wait on my website update till I have it ready to go. Better yet, to the flirts who read my blog, I am giving it out for FREE! That is what happens when you ignore your customers, they pay someone else and then make sure others benefit from your neglect :). Princess knows how to stick it to others doesn't she? So who was this designer? Well as I said before… I dont give those who dont deserve advertising any… be it negative or positive…. I do not send people to them even out of curiosity cause my traffic is far too valuable hehe.
I also want to give an early warning to all my blog readers, my member's site is also getting a facelift and TONS of new material being added within the next week. I am reformatting all videos to flash and making downloads available, adding about 200 mp3s as well as 7 picture sets. The 4 videos that are listed here on this site are also going bye bye, so if you haven't downloaded them when you bought them too bad in a week. I am instead breaking them up into 10 minute increments and selling them for slightly cheaper and I am adding more videos that have been previously released to my store as well. I also have 60 new picture sets that I will be putting in my store and releasing, my prized pets already have seen many of them hehe!
As a special treat for those who read my blog as well, I am offering a 20 minute mp3 of your choice * custom made to your fetishes to wrap your brain * when you tribute 50 or more on Niteflirt or send an amazon.com e gift card to amberlyownsyou@yahoo.com for this week only. Mistress just got a new computer and I am making you pets pay for all the software and accessories that go with it! If you tribute 100+ well then pet you get some special time with Princess. Be sure to instant message me at the same user name after you have done so to claim your prize. Lets see who wins pets!