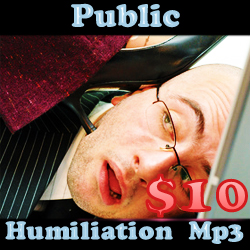 So if you say My update yesterday you would know, Goddess is in legal turbulence (not). I am still prepping the 3 phone calls now and should have them live and ready for consumption by Wednesday. If you tribute 15 by then you can get the first mp3 for that discounted price. I have been threatened with 'felony slander and liabel [sic]*. Goddess is so worried as she doesn't know She is going to jail or going to be served LOL.
So onto the mp3 that is to the side, I love it when you pets humiliate yourself for Me so I made a new mp3 giving more examples of what you can do that you will TRULY do anything for Me. Even if your not going to do them, they are sooo devious and shocking… many of you will sprout wood finding out Goddess has such a wicked mind. I love contorting your brains and taking you as far as I possibly can into true debauchery. I want to test to see how low you will truly go for your Goddess.
So many of you know I am back to taking calls like I once did again and its been refreshing. LOTS of new voices but many of the same crying about why have I been gone soo long. WAH WAH WAH I say! I love hearing the trimble in your voice when you call me with such fear having known exactly what I do to little submissives like yourself! You have good reason to be scared. I mean I do tend to chew you guys up by the dozen and spit 99.9% out.
I do find My treasures though and love them like Bob and Sissy Sarah whom I spoke with today!