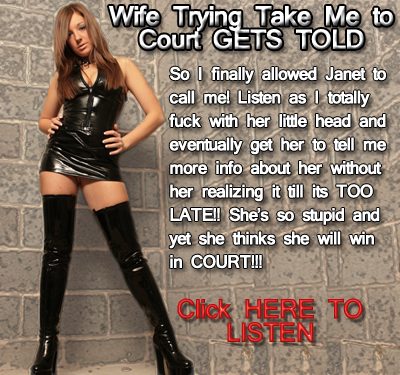 For those of you living under a rock, Janet is the Niteflirt addict's wife who seems to think she can get one up on me! This woman needs a gag order on herself as she continues to talk to the person shes in litigation with! Again shes suing me over a fail civil suit as her husband is way to addicted to me to agree to press criminal charges of blackmail and extortion, did I mention he continues to call me? Check out my feedback! ExposedbyAmberly is my personal Niteflirt little blackmail pet who is getting totally fucked by Princess!
I included a brief sample of the mp3 below in my latest podcast and its proof that I truly know how to humiliate a wife. I not only make instructional tasks and mp3s but I ACTUALLY humiliate your wife! Poor Janet stood no fucking CHANCE!! I took her from confident and resourceful woman on a mission to frustrated stuttering wimp bag that was giving me information rather than detouring me from continuing to destroy her husband's life!
Oh and her claims that  no one reads my blog!!!??? Are you KIDDING ME? Guys post comments and show this bitch that I get well over 500 hits A DAY from unique (people who haven't visited before) and over 2000 returning. Also remember to leave me feedback to further prove to her that YES you guys are watching and YES she has an audience! Janet's blog is getting interesting as other wives are posting comments about their wayward husband's and how they too are suffering!! Apparently even some of my non financially dominated pigs and non blackmail pups are going broke trying to vie for my attention. Trust me, neither of these revelations are particularly shocking to me.
Oh and Janet guess what? Since in the beginning of the call I told you that I was recording and you didn't hang up, I have every legal right to sell and use the recording as I see fit, and you can not do a damn thing about it!! FUCK YOU AGAIN!!! You really make it too easy you bible thumping, self righteous, ignorant retard.